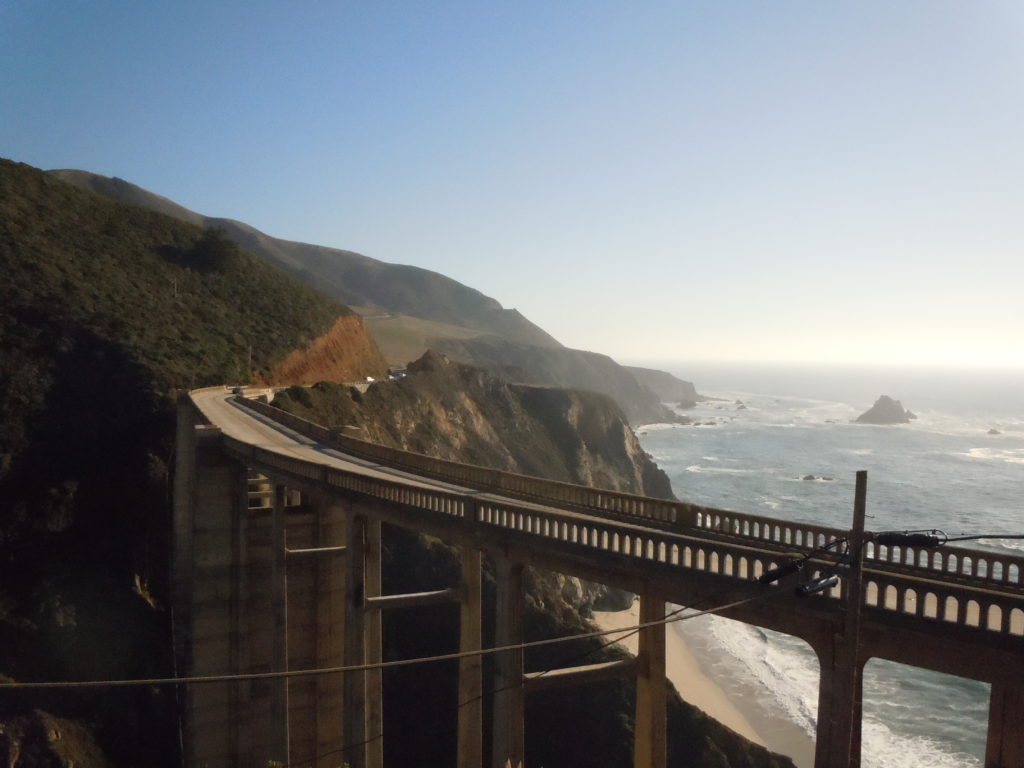 It is called Big Sur Country
where I live
and many men of letters
have passed through
none have denied its beauty
but few have felt at home here
old Henry Miller – city born
burned his bald head brown
trying to catch the color
of the sun of Partington
like Icarus he failed and in the end
retired to cement maze south of here
more at home in an elevator
than at those dizzy heights
and Jack Keruac
hitched his way along this granite coast
with no real sense of belonging
crawling here like an ant
he found the place a graveyard
the off shore rocks tombstones
in the ghost surf
on the road
running like a child in the dark
hearing things in the bushes
he hurried north to hide
in the mulch pits of Marin County
and NIchard Beatigan has come
and gone
and others drawn to and driven off
by the size and silence of this place
but Robinson Jeffers knew
that soaring old predator – sharp eyed
he knew
if he could speed time up
fast enough
we would see that the mountains
are dancing
and with us
Poem by Ric Masten
The Mastens are an old family of Big Sur going back to the 60s when it was the hub for the new hippies and their new ideas. And … some things we didn't even know about. It's not so much that anymore. Just aging hippies scattered about the canyon who stuck around for one reason or other trying to get around with their must-have 4-wheel-drives. So as to say they did I suppose. That is a big deal around here. Can't have your neighbors have you pass as some fly by night Ruby Tuesday or nothing. You have to prove you're worthy to find find yourself adequate lodging. Ric Masten passed away long before I moved here, I learned of him from my neighbors who fancy him a local celebrity. His brother Warren and his wife Mary still live here. Ric's house still stands on Palo Colorado Ridge last I knew. But his surviving family has probably already turned it into one more Airbnb. That's what they all do up here to make ends meet. Some have lined their pockets so heavy their neighbors don't take too kindly to them. What with all them noisy city slickers coming from L.A. and San Francisco to kick up dust along dirt roads lost in someone else's driveway, freaking out about WiFi and cell service. The locals like to brag to outsiders about the wilds of Big Sur but they ain't missing any of those things at their house. They just don't want too many outsiders thinning the blood so as they get to stay country. Ric's house, like many of the old houses, including the cabin I lived in, had an outhouse. Meaning no flushable toilet. Just a pit toilet, like the ones you resort to using when you find yourself in need of a bathroom at one the Forest Service's parks while you hold your nose the entire time. Yes, this is about as county as you're gonna get here in California. So I thought. Turns out having a standard toilet or basic appliances are not a given in the state. But that's a whole other story. I didn't mind it so much myself. I grew up country just like that so I am well used to it.
Speaking of country, take a deep breath of that wide open air. But careful now. Not all at once. Sometimes we have bigs ideas about doing big things, you see. We drive full speed ahead. Not much thinkin, going to them ideas but a certain mark, well, that mark may turn into a giant.
Before I moved to Northern Big Sur I lived in the valley. Where I worked for a campground receiving guests during the week and cleaned cabins on the weekends. It was decent work for my purposes looking to escape the city for the mountains do what I can to steal myself away enough in order to get what I was obsessed to get doing: to write.
(Cont.)